Click on the icon to see
a recent newsletter

July 2019

September 2018

Links to the older newsletters can be found at the bottom of this page.

March 2018

December 2017
Latest News from St Edmundsbury Life Saving Club
Christmas Cracker Competition - December 2018
This annual fun competition was nearly as well-attended as last year's record breaker! Six teams of eight enjoyed a fierce and exhausting battle of relay races. The worthy winners, captained by Sam and 'helped' by Nigel, were team Santa's Reindeer. Well done to everyone who took part or helped, it was a fantastic evening and everyone was rewarded at the end with...chocolate!!
More details and photos coming soon!
Club Camp and Bob Myles Open Water Challenge - July 2018
Another hugely successful weekend of life saving fun at the seaside - the quotes on our home page say it all!

It was our biggest camp yet with fantastic weather to match at Hemsby! Over 75 club members and families enjoyed a great weekend on the beach this year, with plenty of games on the beach and at the camp. We spent lots of time in the water and even managed some lifesaving when not enjoying playing in the waves. The quiz, Fish & Chips and BBQ were enjoyed by all. It was great to see many of the older members supporting and encouraging our younger Rookies over the weekend. There was a visit to the Hemsby Volunteer Lifeboat, hearing what the busy crew do throughout the year and giving our donation from our raffle (thanks to all the local businesses that helped with prizes) to support their work. We also held our annual Bob Myles Open Water Challenge with 14 pairs competing for the cup. This year the winning pair was Dan & Sam – well done to both of you!
Well done to everyone for making it a great challenge, particularly the Rookies who helped out some of the parents! George
The complete results were:
| | | | | | | |
| --- | --- | --- | --- | --- | --- | --- |
| Pair | Flags | Lifeguard Fitness | Paddle Board | Throwing Rescue | Torpedo Rescue | Overall Position |
| Dan & Sam | 1 | 3 | 1 | 4 | 2 | 1st |
| Grace & George | 14 | 11 | 8 | 10 | 11 | 11th |
| Lily/ Eva & Neil | 2 | 1 | 5 | 3 | 3 | 3rd |
| Harry & Nat | 5 | 6 | 3 | 2 | 5 | 4th |
| Millie & Lucien | 11 | 7 | 4 | 5 | 4 | 5th |
| Zoe & Jess | 9 | 14 | 13 | 8 | 14 | 13th |
| Naomi & Brody | 6 | 13 | 14 | 13 | 13 | 14th |
| Amy & Kimberly | 10 | 9 | 11 | 12 | 10 | 10th |
| Jas & Rhys | 4 | 8 | 7 | 9 | 6 | 6th |
| Neve & Miles | 13 | 12 | 6 | 14 | 12 | 12th |
| Charlotte & Sylvie | 7 | 5 | 10 | 6 | 7 | 7th |
| Matthew & Molly | 3 | 10 | 9 | 7 | 9 | 8th |
| Zaff & Emma | 12 | 4 | 12 | 11 | 8 | 9th |
| Richard & Sallie | 8 | 2 | 2 | 1 | 1 | 2nd |
Club Pairs Competition Results - May 2018

Well done to everyone who took part in our annual Rookie and Survive & Save pairs competition on Sunday 20th May. It was great to have the support of so many parents, including those who acted so well, volunteering to be rescued! The events followed the National Championships with an unknown Water incident, First-aid scenario, Rope throw and Swim & Tow. Some of our competitors have only just joined the club so a special mention for you, and those doing a competition for the first time! A big thank you to everyone who helped on the night. Hopefully everyone enjoyed themselves, perhaps enough to think about entering the Regional heats of the National Championships which are being held on the 15th July. If you are interested please see Richard or me on club nights as we need to confirm entries by the 8th June.

More details in the next Newsletter!
Well done. George
The full results were:
| | | | | | |
| --- | --- | --- | --- | --- | --- |
| Rookie Pair | Wet Incident | First-aid Incident | Rope Throw | Swim & Tow | Final Position |
| Lewis & Finn | 4 | 7 | 2 | 2 | 3rd |
| Isabel & Matthew | 5 | 6 | 8 | 12 | 7th |
| John & Aiden | 6 | 4 | 1 | 7 | 5th |
| Harry & Ethan | 11 | 9 | 9 | 4 | 11th |
| Kimberly & Jessica | 10 | 5 | 12 | 9 | 12th |
| Joe & Sam | 3 | 3 | 3 | 1 | 1st |
| Tom & Myles | 10 | 7 | 10 | 11 | 13th |
| Rhys & George | 8 | 11 | 11 | 5 | 10th |
| Brody & Sam | 9 | 10 | 6 | 8 | 9th |
| Cydney & Izzie | 9 | 2 | 6 | 10 | 8th |
| Ella & Eva | 1 | 1 | 7 | 6 | 2nd |
| Sylvie & Maddie | 7 | 2 | 4 | 3 | 4th |
| Caleb & Lucian | 2 | 8 | 5 | 8 | 6th |
| | | | | | |
| --- | --- | --- | --- | --- | --- |
| Survive & Save Pair | Wet Incident | First-aid Incident | Rope Throw | Swim & Tow | Final Position |
| Jack & Peter | 4 | 1 | 1 | 3 | 1st |
| Cameron & Dan | 4 | 6 | 6 | 4 | 4th |
| Sallie & Charlotte | 3 | 8 | 7 | 5 | 5th |
| Natalie & Molly | 5 | 7= | 4 | 1 | 3rd |
| Zoe & Abbie | 2 | 9 | 11 | 7 | 7th |
| Scarlett & Ciara | 9 | 2 | 2 | 2 | 6th |
| Grace & Naomi | 7 | 4 | 5 | 8 | 9th |
| Zaffron & Olivia | 8 | 10 | 10 | 11 | 11th |
| Rosie & Emily | 6 | 7= | 9 | 9 | 8th |
| Ella & Erin | 1 | 3 | 3 | 6 | 2nd |
| Ella & Niamh | 10 | 5 | 8 | 10 | 10th |
Christmas Cracker Competition - December 2017
The last night of term saw the annual Christmas Cracker Competition, with seven or maybe eight fun and fantastic events. There was a record number of competitors, around 55 swimmers; with helpers that made over 60 members taking part! That was why not everyone had time to drop down Santa's Chimney before the flumes were switched off, but everyone took part in Santa's Pressie Drop (an extremely complicated relay involving all the pools and a raft full of presents) as well as in Santa's Hat, Sack and Workshop Clearance races, the Reindeer Rope Pull and more! There were a lot of smiling faces and some very out of breath team captains who had to swim the rope out to all their team members! It was a hard fought competition but the worthy winners were 'The Grinches', followed in second place by team 'O'Neill' and third was the aptly named team 'Well, we nearly won!'. Congratulations to all the competitors - you deserved the chocolates afterwards! Thank you to all the helpers - you deserved the chocolates too!
Suffolk Rookie Challenge Competition - November 2017
We hosted the annual Suffolk Branch Rookie Competition on the 19th November, and were joined by Rookies from Ipswich and Deben Life Saving Clubs.
The pairs competed in four events, just like the RLSS National Championships.  First was a water-based incident where they had to assess the situation and save multiple casualties using their lifesaving skills. They then moved straight to a first-aid incident where they provided care and resuscitation for a couple of casualties. Next was the speed rope throw rescue, with the Rookies taking it in turns to coil and throw the rope to rescue their partner in the fastest time. The last event was the Body Board speed relay, which is a slight change to the national event but more fun! Each partner had to paddle one length of the pool in a relay race against the clock.

It was great to have the support of so many spectators encouraging everyone and 'Thank You' to the Rookies and Survive & Save members for being the bodies and helping us run the event. A selection of photos are in our Gallery.

The 2017 Champions were Jo and Sam, 2nd were Sylvie and Philippa, both pairs from Bury, and in 3rd place were Hannah and Grace from Deben LSC. They were presented with the shield and medals by Jo Thompson, the new RLSS Drowning Prevention Coordinator for the East. Well done to everyone!! George

The full results were:
| | | | | | | |
| --- | --- | --- | --- | --- | --- | --- |
| Rookie Pairs | Club | Wet Incident | First-aid Incident | Speed Ropes | Body Board | Overall |
| Jo Whiteman & Sam Bercovici | Bury | 1 | 2 | 2 | 1 | 1 |
| Sylvie Melvin & Philippa Baldwin | Bury | 2 | 1 | 4 | 5 | 2 |
| Hannah Walker & Grace Boakes | Deben | 3 | 4 | 3 | 3 | 3 |
| Ben White Maddie Long | Ipswich | 3 | 3 | 5 | 8 | 4 |
| Ella Garrard & Savannah Baker | Bury | 5 | 8 | 6 | 2 | 5 |
| Joseph Laycock & Sam Middleton | Bury | 6 | 6 | 7 | 4 | 6 |
| Lucien Palmer & Cydney Duncan | Bury | 7 | 7 | 9 | 6 | 7 |
| Beth Marsh & Keigan Curtis | Ipswich | 8 | 4 | 8 | 10 | 8= |
| John Everett & Tom Richardson | Bury | 9 | 10 | 1 | 9 | 8= |
| Eddie Wilkes & Caitlin Marsh | Ipswich | 10 | 9 | 9 | 7 | 9 |
Team West Channel Swim - July 2017
As I am sure you know by now Richard and I have been training towards our Channel Relay Swim as part of Team West for the past 18 months or so. Our 'Swim Window' opened on the 30th June which means when it's your turn and the weather conditions are safe you're off!

The weekend of the 1st/2nd July came and went, and whilst we were hopeful of a call for the Monday/Tuesday the conditions in the Channel weren't the same as the nice weather we were having at home. We almost left Bury on the Tuesday, only to be stood down at the last minute, which at least allowed Rick to get on with the gardening!

With time running out for our window (especially as the other four of our team members were due back on shifts with the ambulance service) we finally got the call to head towards Dover as Friday seemed like a 'go'. We arrived in Dover on Thursday evening, not sure if we were starting in the morning or whether it would be a nighttime start. By Thursday night the forecast conditions dictated that Friday night would be best.

We headed for the harbour around 2100 hours with Team East, finally seeing our boats and pilots. Our boat, Suva, was pink, with crewmember Sam Jones and Neil Streeter as our pilot. In the harbour there were tense discussions as the conditions weren't favourable and Sam (who has swum solo twice and in two relays) said she wouldn't go in these conditions...

As we headed outside the harbour walls we understood why, the boats were tossed around, our kit was sliding from one side of the boat to the other and you had to hold on with two hands! We made our way to Samphire Hoe where our challenge was to begin. It was pitch black when our first team member, Ria, jumped off the boat and headed toward shore waiting for the horn to start us off. Team East set off just ahead of us, but Ria was soon level and as we drifted apart in the dark it was a challenge to get any rhythm and those of us on the boat were holding tight or leaning over the side being ill :o(

Richard was our second swimmer, getting in at 23:26 and battling his way through the dark. By the time he had done his hour we couldn't really see Team East. As our Captain, Mark, was swimming I checked with the official observer and he thought we were making about one mile an hour....it was going to be a long night!

I took over from Mark and after jumping in swam into the dark, not knowing if I was heading in the right direction, whilst the boat picked up Mark and then caught me up. Swimming through the night is a different challenge, with things (who knows what) brushing past you, sometimes you are in the light of the boat, seeing it being tossed around by the waves and swell, and other times in the pitch black. Our fifth swimmer was Tia who had been curled up on the boat with seasickness since we set off, but it was a really pleasing sight as she swam past me for her slot and I could climb back on the boat.

As Tia was coming to the end of her hour, we got the news that Team East had pulled up and were returning to Dover. They hadn't been able to keep on track and team members had also suffered with sickness. We were gutted for them, but that also made us more determined to beat the Channel.
Our last swimmer, Cathy, finished our first round and also gave us the biggest worry, as at one point she was some 40 metres behind the boat heading in the wrong direction and in darkness! Fortunately, she got back to us and as she finished her hour the sun was starting to appear :o)

I think we would all say our second swims were the most enjoyable, the sun was up, we could see our team mates supporting us from the boat and although there was still a swell, we were all able to get into a rhythm and make some progress towards France!

As Cathy got in for her second swim we were at the 4-mile buoy (as the crow flies) and, although cheered on by this, Sam pointed out that it took her another 7 hours from here! The tides and the fact the land curves means the challenge is on and Mark tells us that this part of the swim is known as 'the swimmers graveyard' as so many attempts have failed at this point.

Ria made some good progress, but Richard was needed for a third swim. The downside to this was that he had promised to wear his 30 year speedos for 'their' last swim and after his hard swum hour we were within metres of land (Richard didn't realise how close), but the rules meant that we had to change to our third swimmer and our captain Mark sprinted to shore, finishing our crossing at Wissant in a very creditable 14 hours 3 minutes!

Once there, we were all able to join him on the shore to celebrate our success with a bottle of Champagne and six glasses, watched by about 15 to 20 locals cheering and clapping. After plenty of group hugs and pats on the back we all headed back to Suva for our journey back to Dover.

This was an amazing challenge, which was made better by an amazing team of very determined people who all supported each other every step of the way. We had never all been together until we arrived in Dover, but throughout the training, in the week we waited to swim and throughout the challenge we were always there for each other and we can truly say this was a team achievement!

Personally, Richard and I would like to thank our families, friends and club members for their support in this challenge and for their kind sponsorship. Our two charities, The Ambulance Wish Foundation UK and TASC The Ambulance Service Charity, will benefit equally from over £3000.

The last words should come from our team captain Mark: "I want to say how very proud I am of every swimmer on both teams. We trained hard, we fought hard, but the English Channel can be relentless at times and loves to take prisoners. Very well done to each and every one of you."
Richard and George
Club Camp 2017
Our annual club camp, this year at Hemsby again, was one of our best yet! Lots of members and their families enjoyed the weekend of camping, the fun and games in the sea, on the beach and back at the campsite, and the food, which always tastes better when you're camping. We were blessed with fine, dry weather (apart from a little light rain at the very end when we were packing up the van to come home) and the sea was lovely and warm (well, it was if you were wearing a wetsuit) though some of our youngest members, who were braving the sea for the first time, might disagree! We were also very pleased to be visited by Maximus the young Newfoundland, and his owner Caitlin who told us all about him and his natural water rescue abilities. We asked him to be our official Club Mascot and he (with Cailin's kind permission) agreed. Read all about him on his Facebook page Bearly Famous.
The Saturday night quiz, held while we were waiting for our fish and chips to arrive, was kindly provided by Zaffron's Mum (thank you!) and was most enjoyable, especially the chocolate and crisp picture rounds. It was judged with difficulty at the bonfire on the beach and the decision made to call it a hard fought draw!
The Bob Myles competition was held on Sunday morning and was hotly contested by a record 18 pairs (including several plucky dads). It was great fun and the results were:
First place and winners of the Bob Myles Open Water Challenge Trophy 2017: Peter and Daniel
Second place: Molly and Natalie
Third place: Millie and Neve
Congratulations to all the competitors, they were all fantastic!
Finally, a big thank you to all the campers for supporting the club and participating, and also to the trainers and committee for organising the weekend.
Club Awards 2017
This year's club awards were presented at the AGM, to Emily Golding and Jasmin Raja - congratulations and well done to both of them.
| | |
| --- | --- |
| Junior Shield | Breseus Cup |
| | |
Club Pairs Competition 2017
Well done to everyone who took part and congratulations to this year's winners:
Junior Pairs - Holly and Ella
Senior Pairs - Sallie and Molly
The full results are shown below:
| | | | | |
| --- | --- | --- | --- | --- |
| Junior Pairs | Incident | Rope | Swim & Tow | Overall |
| Joseph & Philippa | 2 | 6 | 1 | 3 |
| Rosie, Savannah & Isabel | 4 | 2 | 3 | 4 |
| Ella & Holly | 1 | 4 | 2 | 1 |
| Harry & Jo | 5 | 7 | 5 | 6 |
| Eva & Emily | 3 | 1 | 4 | 2 |
| Lucian & Sam | 3= | 3 | 6 | 5 |
| John & Charlie | 6 | 5 | 7 | 7 |
| Senior Pairs | | | | |
| Sam & Joe | 9 | 1 | 2 | 2 |
| Sallie & Molly | 2 | 3 | 1 | 1 |
| Elizabeth & Ella | 7 | 2 | 3 | 3 |
| Abbie & Jasmin | 3 | 9 | 4 | 5 |
| Charlotte & Zoe | 5 | 6 | 8 | 7 |
| Dan & Peter | 6 | 5 | 5 | 6 |
| Jack | 8 | 4 | 9 | 6= |
| Erin & Maddie | 4 | 11 | 11 | 6= |
| Grace & Naomi | 10 | 8 | 7 | 8 |
| Zaffron & Olivia | 11 | 7 | 10 | 8= |
| Ciara & Hattie | 1 | 10 | 6 | 4 |
National Championships Finals 2016
On the 5th November, four members of our club competed in the National finals of the Lifesaving Championships at Ponds Forge in Sheffield, representing the East Region team.
Molly Wheeler and Natalie Wright competed against 16 pairs in the Junior Girls competition, finishing a very creditable 8th overall, whilst Senior Boys Jack Lillistone and Rhys Palombo came 16th in the country in their first time at this level.
The event sees competitors from England, Ireland, Scotland and Wales using their lifesaving skills in previously unknown water and first-aid incidents, a speed rope rescue and a timed swim and tow.
This year seven casualties needed rescuing from the water in just 90 seconds, with the competitors working together to keep themselves safe and ensuring the highest priority casualties were rescued first. The girls were 6th and the boys 13th in this section. Next was the first-aid incident with the teams using their resuscitation skills on a manikin to ensure the casualty got help. The girls were =9th and the boys 15th.
The rope rescue is about the speed to coil and throw a rope and pull the casualty to safety in the quickest time. The girls came 11th and the boys 8th.
The last event was a test of speed and stamina to swim 50 m (25 m for the Juniors) to the casualty and then tow them back 50 m (or 25 m) in the fastest time. The girls finished 11th and the boys 16th in a fiercely competitive race, all improving their times from the regional heats.
All four did exceptionally well in each element of the competition, worthy of being some of the best lifesavers in the UK. Well done to you all and thank you to the supporters for spending a long day in Sheffield. George & Nigel
Suffolk Branch Open Water Competition 11th September 2016

Club members and spectators enjoyed the perfect conditions at the 2nd Suffolk Branch open water competition, with sunshine and flat, calm water at the Dip in Felixstowe. Lifesavers from Ipswich, Deben and Bury were mixed up in equal pairs for the five events.
The first event was 'flags', or at Felixstowe a shingle dash, involving speed across the beach in the fastest time. With only seconds in it Callum and Ciara were the fastest pair.
In Lifeguard fitness the pairs had to dive in then swim with a torpedo around the buoys before handing over to their partner. There were some quick swimmers, but Neve catching up the field was impressive to watch, although the fastest pair were still 30 seconds faster!
The third event was about speed and technique on the Paddle Board, competitors had to rescue their partner and paddle back to safety in the quickest time. The fastest individual was Callum after a very impressive entry in 1.09 minutes.
The next rescue was using the torpedo buoy to tow a casualty in and support them up the beach, with Neve getting the fastest time, ahead of Natalie and her partner Teagan.
The final rescue involved a rope throw from the water, always funny to watch!
Everyone enjoyed the morning and for some this was their first experience of open water skills. The overall results saw our club members in all the medal positions, which were presented by the Branch Competitions Officer, Ali Pugh:

1st - Ciara and Callum
2nd - Zoe and Ellie
3rd - Neve and JJ
Our other club members were Natalie 6th, and Millie 8th. Thanks to everyone who helped organise and run the competition, and well done to everyone who competed.
National Championships 2016 Regional Success

The club was well represented again this year at the regional heats of the National Lifesaving Championships which were held in Ipswich on the 17th July. Parents gave plenty of support to our pairs, many having their first experience of competing in the four events: Aquatic Incident, Life Support Incident, Speed Rope Throw and Swim & Tow.

Junior Girls
Four pairs from Bury made up the seven teams, with Molly and Natalie winning overall to defend their title. Zaffron and Ciara took 3rd place, Erin and Zoe 4th, while Amy and Hattie came 7th - but it was their first experience and they had to go first!

Junior Boys
Five teams competed, with two from Bury - Peter and Kian, and Corey and Mason. Peter and Kian just missed out on being Regional winners, taking 2nd place overall, winning the Swim & Tow, and coming 2nd in the Incident and Rope Throw. Corey and Mason came 5th.

Senior Girls
Our experienced pair of Millie and Neve improved as the competition went on, winning the Life Support Incident and Swim & Tow, leading to 2nd place overall. Ella and Sallie in their first competition came 2nd in the Incident and an impressive 3rd overall. Esmee and Elizabeth also did well in the Incident, coming 3rd, and finishing 4th overall.

Senior Boys
Jack and Rhys were the only competitors this year, but this didn't stop the boys putting in the effort, both getting out their ropes.

A big thanks to our club bodies, Sarah, Jules, Jonathan, Kieran, Kate and Grace, as without them we couldn't run these competitions!
Molly and Nat, and Jack and Rhys will now join the East Region team at the National Finals at Sheffield on the 5th November. Well done to everyone who took part and best of luck for the finals.

Lots of pictures from the competition can be viewed from our Gallery.
Club Pairs Competition 2016
Our annual 'Pairs' competition for both Rookies and Survive & Save was held last Sunday, 22nd May, with some excellent demonstrations of Lifesaving skill !

The first event saw the pairs having to save a number of casualties in a previously unknown incident, keeping themselves safe and making sure they rescued the high priority casualties first. Many of the competitors hadn't done anything like this before, and all kept themselves safe while making the rescues. The judges (Sarah Sheridan and Richard) did however manage to separate them in the scoring, and the Rookie winners were Zaffron and Rosie, with Millie and Neve coming top for the senior members.

Next came the speed rope throw; coiling the rope and rescuing your partner as quickly as possible. The fastest Rookie on the night was Kian in 17seconds, but the quickest pair was Zaffron and Rosie again. For the Seniors, the fastest time (and using the Windmill technique!) was Neve in 15.09 seconds. This also gave Millie and Neve their second win in the competition.

The last event was a Swim & Tow, using a Torpedo buoy to tow the casualty over 25 metres. This time Kian and Jamie were the fastest Rookies in just under 2 minutes combined, while Molly and Natalie won for the Seniors in 108 seconds.

Everyone did really well and thanks to all the bodies and judges, particularly Paul and Sarah S who popped in to support the competition and Sarah Pawsey for doing the mark sheet. The overall results were:
| | | |
| --- | --- | --- |
| | Rookies | Survive & Save |
| 1st | Zaffron and Rosie | Millie and Neve |
| 2nd | Jamie and Kian | Sam and Ella |
| 3rd | Aiden and John | Sallie and Ciara |
| 4th | Holly and Ella | Molly and Natalie |
| 5th | Corey and Mason | Beth and Ellie |
| 6th | | Peter and Jack |
| 7th | | Grace and Hattie |
| 8th | | Jasmine and Charlotte |
| 9th | | Zoe and Erin |
| 10th | | Esmee and Elizabeth |
There are lots of pictures of the action in the gallery (thanks Jonathan). Well done to everyone who took part and helped (that includes you Harry!) and for the support on the side. George
Awards Presentation Night 2016
On Sunday 24th April we celebrated the success of our members having passed RLSS awards, all presented by our current Mayor Patrick Chung. The awards achieved were:
Rookies
Achievement 1
Amy Lingwood, Emily Golding
Communication
Corey Sadler, Mason Sadler, Zaffron Pascoe, Amy Lingwood, Archie Harris, Holly Atwell, Ella Garrard, Rosie Wallace.
Bronze 1
Joe Whiteman, Alfie Etherington, Harry Wheeler
Bronze 2
Aiden Gibson, Holly Attwell, Jamie Raja, Ella Garrard, Rosie Wallace
Bronze 3
Corey Sadler, Mason Sadler, Zaffron Pascoe, Archie Harris, Kian Utley
Silver 1
Corey Sadler, Mason Sadler, Zaffron Pascoe
Rookie Life Support
Corey Sadler, Mason Sadler, Zaffron Pascoe, Archie Harris, Kian Utley, Aiden Gibson, Holly Attwell, Rosie Wallace

Survive & Save
Life Support, Bronze Core and Bronze Medallion
Jack Lillistone, Peter Lillistone, Zoe Pearce, Jasmine Raja, Sallie Cornwell, Molly Wheeler, Natalie Wright, Connor Hodgkinson, Brandon Hodgkinson, Mark Hodgkinson
Life Support and Bronze Core
Erin Maguire, Ciara Searle, Ella Clark
Life Support
Charlotte Peacock, Amy Winterbottom, Hattie Welham, Grace Tydeman, Elise Stockdale, Joe Bradley
Life Support, Silver Core and Silver Medallion
Jack Bercovici (Life Support 3), Rhys Palombo, Elizabeth Poulson, Sam Truman
Gold Core
Esmee Jackson
Life Support 3, Gold Core and Gold Medallion
Kate Bramwell, Jonathan Sharp, Beth McCartney, Ellie Wright, Millie Pearce, Neve Maguire, Kieran Jackson
Other awards presented included the club's silver anniversary pin badges awarded for service to the club. These limited edition pins were presented to Sarah Pawsey and Kate Bramwell for their dedication to supporting the running of the club over many years.
More pictures in our gallery.

In recognition of over 20 years of support for the club, Cecil & Larter were also presented with the RLSS 'Friends of the Society' award. Unfortunately due to his birthday celebrations, Managing Director Ray Cawston could not attend the ceremony, so Mayor Patrick Chung and Vice Chairman of St. Edmundsbury Lifesaving Club presented the award in the Cecil & Larter showrooms on Mildenhall Road on 28th April. Cecil & Larter have always been very generous, particularly with providing photocopying, printing and club garments. More information about the company can be found on our About page, under Sponsorship.
Jonathan achieves Young Lifesaver of the Year
Last summer Jonathan, our Club Captain, went to the Guildhall in London where he was presented with his Young Lifesaver of the Year award.
Jonathan became a member of the club more than five years ago, making an immediate impact. He attends weekly club nights regularly and is always committed to setting a good example to younger club members in his attitude towards training. He has always been an active member of the club, participating in all club activities – Open water training, competitions and club camps.

During his time at the club Jonathan has grown in confidence and worked hard to achieve his awards including Life Support 3 and is about to pass his Survive & Save GOLD Core & Medallion, and training towards his NPLQ (now passed, and a regular lifeguard at the pool)!

Jonathan was elected to the club's executive committee as Club Captain by club members over two years ago. In this role he represents member views and supports the committee in running and organising club activities, notably our club camp and 25th year anniversary events.  He instigated a 'special 25th year award' which he presented to club trainers in recognition of their commitment to the club and Lifesaving. He is currently developing a club promotional video for our website, and regularly contributes photos of club activities for both our newsletter and website.

Jonathan is well respected by all members of the club and is a positive role model to our younger members.
Suffolk Rookie Competition 2015
Eleven pairs of Rookies from Deben, Ipswich, Sudbury and St Edmundsbury Live Saving Clubs took part in this fun competition on Sunday 22nd November. For many this was their first competition, but they all did really well and had a great time. More information, results and pictures coming soon!
Nationals 2015 - after
For our junior and senior girls pairs this was a new and scary experience, but they took it in their stride and competed to the best of their ability. They were a credit to our club and their efforts were rewarded with Molly and Natalie winning the bronze medal for their Aquatic Incident (probably the hardest part of the competirion), and Ellie and Beth coming 4th in the Swim & Tow, only a few seconds behind the bronze medal winners. Molly and Natalie were 9th overall while Ellie and Beth were 8th overall. Kate also narrowly missed out on a medal for her Swim & Tow, and came 6th overall. Well done to you all! Thank you to all our supporters, especially George and his family, and to our ' bodies' - Laura and Neve.
Nationals 2015 - before
Club members will be representing the East Region in the national finals of the Lifesaving Competition held in Sheffield on the 31stOctober. They will compete against lifesavers from across the UK in 2 incidents (one water based, one first-aid & resuscitation), a timed rope rescue and a timed swim & tow. From left to right: Ellie, Beth, Kate, Molly, Natalie. Good luck girls!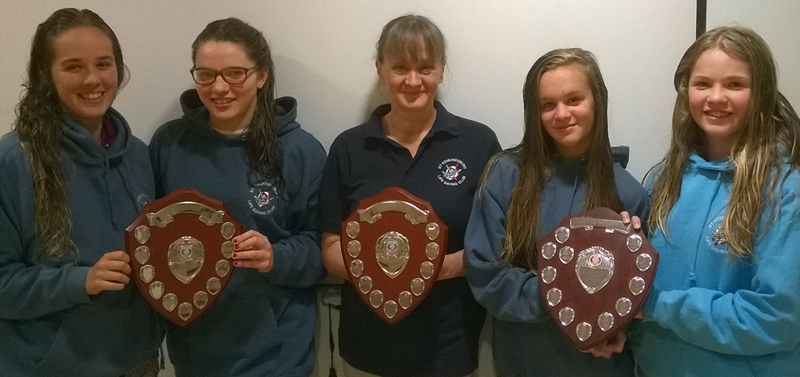 Club Camp 2015
Blessed with fine weather we enjoyed another successful weekend away at Thorpe Woodlands, packed full of fun and, for some, new (and scary) experiences. From caving to climbing...
from low ropes...
to high ropes,
from dipping toes into the cold river water... (ready, set, go, brrrr!, except Kieran?)
to team building exercises,
everyone did their best and achieved more than they expected! On the Saturday evening everyone enjoyed Nigel's 'spag bol' and Sarah's brownies and ice cream - thank you to them both! Well done all, and thank you to our dedicated trainers for making these events possible!
Suffolk Branch Open Water Challenge 2015
Lifesaving clubs from across Suffolk came together to compete in an open water challenge at Felixstowe Dip on Sunday 20th September. In all 19 pairs, a mix of Rookies and Survive & Save, joined up to enjoy the challenges and test their skills in the open water (some for the very first time!).
The weather played its part as the many spectators enjoyed the friendly competition from all the competitors. Older, more experienced lifesavers helped and supported the less experienced and everyone enjoyed a fantastic competition.
The first event saw our version of 'Flags' with teams getting their 'Heads up' and sprinting across the shingle beach in a relay with their partner. The fastest pair taking maximum points was Kieran & Maddy in a combined time of 22 seconds.
The Lifeguard Fitness challenge saw a dash across the beach, a 'Baywatch' style entry with a torpedo into the water and a sprint swim around a course, running back up the beach and swapping the torpedo with their partner. The winning combined time was 4 minutes 41 seconds - well done Ellie & Melody.
Next came the torpedo rescue of a cooperative casualty. One of the pair sprinted out to the buoys and raised their hand to signal their partner to rush to the rescue. The quickest pair to support their casualty back up the beach was also Ellie & Melody.
Over the same distance pairs then had to complete a Paddle Board rescue of their casualty. For many of the lifesavers this was the first time they had been on a board. Many did an excellent job with only a couple of pairs paddling in the wrong direction or tipping over! This event was won by Neve & Liam in 1 minute 29 seconds.
The last rescue tested the pairs' skills in a rope throwing rescue, not so easy with the waves and wind! The fastest rescue was by Ben & Ollie in 24 seconds.
The final results were very close, with the top two pairs equal on points after five events, so the decider was the fastest over the Lifeguard Challenge. Overall everyone did fantastically well and the top three pairs were:
Ellie & Melody
Liam & Neve

Ben & Ollie
Well done to everyone who competed, thank you to the spectators for their support and to the trainers and Lifeguards for making our first open water challenge a great success. The event finished with some well-earned fish & chips!
National Finals 2014
An early start in Sheffield at the Ponds Forge International Sports Centre on the 1st November, resulted in more personal bests for our club's members who were representing the East Region. The competition was hard but they all did very well with the highlights being PB's for Ben in the Rope Throw and Swim & tow, for Matt in the Swim & tow, for Paul in both the Rope Throw and the Swim & tow, and for Kate in the Swim & tow and in both the aquatic and first-aid incidents. The final positions for our four were: Matt & Ben - 6th, Paul - 6th and Kate - 3rd. Well done to all the competitors, and thanks to all their families and the trainers who made the journey north to support them (and to those of them who participated as bodies!).
Suffolk Rookie and RLSS East Region Competitions
Well done to all those who took part in this year's competitions held at Ipswich High School at Woolverstone on September 20th, and congratulations to those winning medals. It was a long afternoon and evening of events but everyone did their best! Especially well done to the following Rookies:
Peter & Jack - second place
Natalie & Molly - third place
Ciara & Minnie - fourth place
Erin & Zoe - equal sixth place
Four of our members qualified to compete at Nationals, (Ben and Matthew in the Junior Boys, Paul in the Mens Masters and Kate in the Ladies Masters) being held this year on November 1st at Ponds Forge in Sheffield.
25th Anniversary Year

As we move beyond our 25th year we can look back on another successful year ... one to remember!
The year started in September 2013 with club members training to representing the East Region in the National Lifesaving Competition in Sheffield, with everyone producing 'personal best' performances, and a great weekend for the 20 or so members and families.
All club members were given an anniversary t-shirt, subsidised by Cecil & Larter and Anglia Gifts and Promotions. As always, we are very grateful for the generosity of our sponsors.

During the year we held our annual club competitions, the Christmas Cracker and Lifesaving Pairs, which were fiercely contested and well supported by parents.
This year our awards for effort, enthusiasm and commitment to Lifesaving and the club were awarded to:
Breseus Cup (senior award)
Junior Shield

We also recognised members who have taught, supported and organised the club over many years with 'Life Membership', congratulations to Nigel, Sarah, Paul and Jules.

As we moved towards the Summer term we celebrated with a party at Bury Rugby Club with Hog Roast, Disco and Cake, and it was great to see past members of the club, Branch members and of course many of our current membership!

Dancing the night away

In a change from recent club camps we headed for Hemsby on the Norfolk coast for a family weekend of camping, fish & chips, rounders, a quiz and of course lots of lifesaving and games on the beach.
Sun in the Sea
Campsite

To mark our 25th year, 25 pin badges of the club's logo have been made to recognise great achievement and commitment, and our Club Captain, Jonathan, awarded the first of these to our six regular trainers.

What a fantastic club year, we hope you all enjoyed it as much as we did! Many people help keep our club going every week and also supported the extra bits for our 25th so to everyone ...

Thank You!

The Club Committee
Bob Myles Open Water Challenge Cup 2014
It was great to see lots of spectators and 9 pairs for the 2nd annual Bob Myles Open Water Challenge Cup at Felixstowe on the 31st August. The water was calm and the sun shone for the competitors as they competed in the 4 elements. This year we mixed the pairs with a Survive & Save and a Rookie joining together (except Natalie & Molly who had to work extra hard!).
The first event, 'Flags Relay', tested speed and team work with the fastest combined pair over the 15 metres relay being Ellie & Erin.
Lifeguard Fitness was a sprint into the water and swim around the buoys with a torpedo in tow, then transfer the torpedo to their partner for them to do the same. There wasn't much between all the times, but the quickest pair in 2:06 was Molly & Natalie.
The Swim / Paddle Board challenge involved a sprint out to the buoys, with their partner using the Paddle Board to rescue them, with both paddling in to finish. This involved speed and technique and a lot of team work and was won by Jonathan & Zoe finishing in 1:04.
A Rope Rescue was the final event with each team member timed to make a water based rescue in the quickest time. Again Jonathan & Zoe narrowly beat Neve & Corey by a couple of seconds to win their second event.
The final results were:
| | |
| --- | --- |
| 1st | Jonathan & Zoe (13 points) |
| 2nd | Millie & Jack (11) |
| 3rd | Rhys & Ciara (9) |
| 4th | Molly & Natalie (8) |
| 5th | Ellie & Erin (7) |
| 6th | Calvin & Esmee (6) |
| 7th | Neve & Corey (4) |
| 8th | Katy & Peter (3) |
| 9th | Niamh & Alex (1) |
This year we finished with an Elite version, with teams challenging each other in the Lifeguard Fitness and Swim / Paddle Board Rescue for fun. Rhys & Calvin and Neve & Millie shared first place in this competitive challenge.
Thanks to everyone who joined in, supported and helped organise the challenge. George
Nationals 2013
Saturday 9th November saw club members make the trip up to Ponds Forge International Sports Centre in Sheffield, for the 2013 National Lifesaving Competition, representing the East Region. Following registration Neve and Millie led out the competitors' parade carrying the flag for team East, with the other 15 regions from all over the UK following behind. The competition got going with the aquatic incident with all our team members doing well, although the results showed other teams to be better. Next was the first-aid incident with most of our members coming back kicking themselves for forgetting 5 Rescue Breaths on the child dummy! After a short break we got into the timed events of Rope Throw and Swim & Tow. Every one of the club members got their rope out first time, with the highlight being Matt's 7 coils, and the second fastest time on the day in the junior boys! From our records in competitions Millie, Ben and Matt all achieved Personal Best times for the rope. Next came the Swim & Tow, and for some the 50 metre pool seemed never ending, but again Millie, Neve, Ben, Matt, Jake, Kieran and Kate all achieved Personal Best times.
The support for club members was excellent, with Parents, Grandparents, Uncles and Great Aunties all cheering on our members. Laura and Row also bodied for the incidents, in all, our support was some 30 people which was fantastic for those competing at this level for the first time!
The final results were Junior Girls - Mille & Neve 14th, Junior Boys - Matt & Ben 15th, Senior Boys - Kieran & Jake 13th and Masters 50-59 - Kate 5th. Kate also picked up 3rd place for her Swim & Tow and East Region was overall winners of the Masters section. Well done to everyone, you all did yourselves and the club proud!
Club Camp 2013
Well done and thank you to everyone for making this year's club camp on 29th and 30th June a great success! The raft building proved to be a very popular new addition to the activities we enjoyed. Especially well done to those who overcame their fears and made it up the climbing wall, down the fan descender, up on to or round the cow tails course, and of course into the river!! Pictures in our webalbum, click here.
Rookie and Suffolk Competitions 2013
Congratulations to everyone for a successful day of competitions on Sunday 9th June - lots of medals and three trophies!
Old Newsletters
These can be viewed by clicking on the dates below: